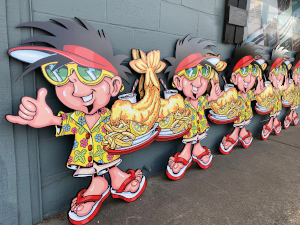 STAND OUT
Your customers are looking for you. Can they find you?
CJ's Sign & Designs has served the Fort Walton Beach, FL region since 2012. While other companies will print out a "cookie-cutter" sign, we take the time to create a unique sign that represents your business. We have helped hundreds of business owners create attention-grabbing signs while providing excellent customer service. From start-to-finish, we can help you with all of your signage needs, including sign installation.
Traditional Signs
You see traditional signs everywhere, but if done correctly they produce the right call to action. They come in a wide variety of materials including Corrugated Plastic, PVC, and Metal.
Commercial & Office Signs
The right sign can draw customers to you and create sales. There are many different ways to achieve your company's desired look. 3D Letters, Signs, and Graphics can be installed on the interior or exterior of your office for maximum branding to impress your customers.
Vehicles
Vehicles are a great way to gain recognition for your business. We offer many options to fit your needs including Magnets, Single Color Vinyl, Partial Vehicle Wraps, or a Full-Color Printed Vehicle Wrap. Customers will love your artfully designed vehicle.
Graphic Design
From Logo Design, Business Cards, and Rack Cards, we can help create the graphics you need to stand out. Is your logo Fuzzy or is it ready to enlarge to size of a billboard or side of van?
Vinyl Signs
Vinyl graphics have a great impact for your customers and can display your best features on just about anything.
Unique Signs
If you can dream it, we can make it happen. We create a variety of signs including glass etchings, flags, routered signs, standoffs, and vinyl wraps.
"A Sign Without Design Is No Sign of Mine"
At CJ's Signs and Designs we focus on our customers. We give them Quality Service, Great Designs, and Excellent Prices. We are truly happy to have your business, and act like it. Special Discounts to Non-Profit Organizations and our Local Military.
CJ's Signs & Designs believes in serving the LORD with passion. We spend a lot of time volunteering in our community and we are active members at Cinco Baptist Church.