Below you can see what our customers have to say about our work. As one of the premier sign companies in Fort Walton Beach, we offer custom sign design, fabrication and installation to businesses of all types. Chris, our designer, has a Bachelors Degree in Graphic Design. He takes the time to make your sign special by finding the right fonts and colors.
Imagination and Quality
Every client I refer to Chris is very satisfied. Him imagination and quality separate him from other sign companies and I don't hesitate to refer my clients to CJ's
– Bob P.
Wonderful To Work With
Chris is wonderful to work with. Always delivers as promised and very customer oriented. I would highly recommend!
– Jodie S.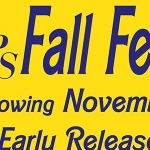 An Awesome Job!
Chris did signage for our school's Fall Festival and he did an awesome job! I would recommend him highly!
– Stacey G.
Great Example
Chris is a good guy and is a great example of why so many like working with a local "small business". He's hands on with the products he sells and delivers quality in both product and customer service.
– Payne W.
Always Fast, Built To Last, And Reasonably Priced
I have used Chris on several jobs and his work is always fast, built to last, and reasonably priced. He has lots of options to help bring new customers to your business. I highly recommend him!
– Julie E.
Couldn't Be Happier!
Our company used CJ's Signs and Designs several times and we couldn't be happier! High quality, always on time, great customer service – true professional! Will return!
– Lisa R.
Pays Attention To What Message You Want To Convey
Chris is a great artist and sign guy. He has such a creative mind and he pays attention to what message you want to convey. As a business owner that message is vital to driving traffic to your door. Thanks for all you have done for me and my business.
– Dan S.