VEHICLE WRAPS
Don't Wait For Customers To Come To You – Take Your Business To Them!
Inevitably, you've seen a vehicle wrap on the road. It could have been a van advertising cleaning services, a high-performance car advertising the latest craze, or even a lifted truck advertising an over-the-top energy drink. One thing about it – you noticed them!
Vehicle wraps are one of the most effective forms of advertising in an on-the-go world. In fact, we've become desensitized to the billboards and storefront signs. We know exactly where they are, what's on them, and that we aren't interested in looking at it again. A mobile sign defeats the "sign block" that has made billboards signage stagnant.
Vehicle Wraps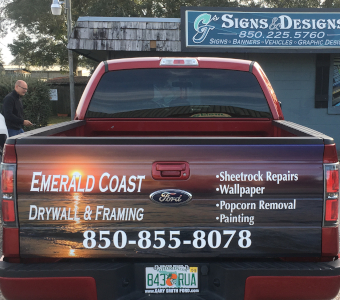 Wrapping a vehicle is a labor-intensive project that can look great when installed properly – or look horrible when rushed. Whether you just need basic vinyl lettering that looks centered and professional or a full vehicle wrap, we have the experience, equipment, time and facility to make sure your vehicle(s) look spectacular.
Here's a brief overview of the vehicle wrap installation process:
Get The Printed Graphics
Since we are probably designing this for you, we'll know exactly when the graphics have been printed. If we are installing someone else's work, we'll let you know when they deliver it to us (unless you bring it to us).
Clean / Prep Work
Next, we'll make sure that all the surfaces are clean and free of any contaminants and/or anything else that would make the vinyl graphics look bad. If we find something we can't clean (i.e. abrasions, defects), we'll address it with you first.
Installation
We'll line everything up, carefully install the graphics and make sure that it looks right. We'll continue this process until it is "customer-ready".
Final Inspection / Quality Review
And finally, we'll make sure that you are happy with the end result. If something is off, this is where we'll make sure to fix it. Our goal is 100% customer satisfaction.
Most people are afraid to install vehicle wraps because they have concerns and/or fears like:
The wrap will mess up my paint.
The wrap will cost a ton.
The wrap will bubble up.
The wrap is permanent.
None of these are true. Wraps will not mess up your paint, cost a fortune, bubble up, or be stuck there forever. In fact, you can change wraps as often as you like.
Now for the good news!
We can design and install a vehicle wrap for you in a matter of days! Imagine coming to us with an idea, seeing a high-quality design that you love, and then seeing your fleet of business cars covered in your mobile signage.
It's completely possible… If you call us.
1. 98% of Americans say they notice media focused on vehicle drivers and passengers.
2. 29% of Americans say that outdoor advertising made them visit a retail store within one week of seeing an ad.
3. Vehicle wraps and mobile advertising boosts name and/or brand recognition by up to 15 times!
We can handle everything from basic lettering to full car wraps. We strive for 100% customer satisfaction, which means you won't leave until you are satisfied. We've built a reputation in the community and online that we don't want to compromise on. As such, you'll get a sign that looks great, at a competitive price, and will draw attention better than any storefront sign or billboard ever could.
If you are ready to see what a wrap would like on your vehicle(s), give us a call today!